54th SSC Meeting 2017
Published on: Thursday 19 October 2017
Dear SSC-Colleagues,
The Swiss SAMPE Chapter board and ETHZ Complex Materials are very pleased to invite you to our 54th SSC meeting. SAMPE is not only carbon composites! Expect to see a fascinating new world of other composite materials with surprising properties.
As you may have remarked, we arranged the meeting in the afternoon with the aim that you do not have to reserve a full day. On the other hand we added a social event at the Department's famous Pub afterwards.
In the formal SAMPE reunion we will have to elect the complete board and a new reviewer.
Please inform me as soon as possible but not later than 17th of November, whether you plan to join the meeting.
Just reply by e-mail to peik@zhaw.ch.
Best regards
Gregor Peikert
Membership
5 Main reasons to become a member of SAMPE Europe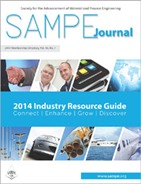 Network Opportunities
Meetings, Seminars, and Literature
Membership Discounts for Conferences & Exhibitions
Free Technical Papers
SAMPE Journal Subscriptions