Terms and Conditions

Terms and Conditions for Conference Delegates

1 Scope of Agreement: These are the conditions of the contract between you, the Client ("You" and "your") and SAMPE EUROPE Summit 2015 Paris Conference "we", "us" and "our") governing your use of our services, including the conference registration as set out in your booking form. This agreement constitutes the entire agreement between SAMPE EUROPE Summit 2015 Paris Conference and you. All prior agreements understandings and negotiations and representations (save for fraudulent misrepresentation) whether oral or in writing are cancelled in their entirety. The terms of any other electronic communications will not form part of this agreement. The conferences are organised by the SAMPE Europe Conference Manager c/o de Ruijter Consultancy under full responsability of SAMPE Europe (SE). Therefore invoicing and receiving of payments will be processed by and under responsability of de Ruijter Consultancy according the Dutch law and tax rules.
2 Our commitment to you: Should the Event be cancelled or the location be changed for reasons or circumstances beyond our control, we reserve the right to reschedule the Event, including changing the location, upon written notice to you. In the case of SE is cancelling an event (for example conference, workshop, tutorial and/or dinner etc.), a credit memo will be issued if relevant. Your refund shall not exceed the total charge received by us from you. For complaints SE is the first responsable and as such represented by the SAMPE Europe Conference Manager c/o de Ruijter Consultancy.
3 Payment Terms: The Total Fees specified on the booking form are subject to an included service charge of 50 Euro applied to cover administration costs, and are inclusive of VAT.
Following completion and return of the booking form, full payment including Service Charge is required within five days from the booking date or prior to the event if this is sooner. All registrants must pay on-line by credit card (VISA, Mastercard or American Express) at the time of booking. We reserve the right to refuse admission if full payment is not received in accordance with these terms.
After subscription and payment you will receive a confirmation and invoice incl. VAT.
4 Cancellations: In the event of cancellation registration fees will be fully refunded only if written notice is received on or before 15 January 2015. Cancellation before 15 February 2015, 75 % of the registration fees will be refunded Cancellation on or after 15 February 2015, will give no refund. All cancellation requests must be submitted to us in writing. If we agree to your cancellation then all cancellation fees are payable immediately after the acceptance of your cancellation in writing by us. The above with the restriction that always an administration fee of EURO 50,- will be deducted from the refund. Delegate substitutions may be made at any time with no extra costs.
5 Privacy: SAMPE EUROPE Summit 2015 Paris Conference is subject to the general Data Protection rules to process your personal information. Our primary goal in collecting personal information from you is to give you an enjoyable customised experience whilst allowing us to provide services and features that most likely meet your needs. We collect certain personal information from you, which you give to us when using our Sites and/or registering or subscribing for our products and services. We also collect certain personal data from other group companies to whom you have given information through their websites. Any personal information supplied to SAMPE EUROPE Summit 2015 Paris Conference as part of this registration process and/or any other interaction with SAMPE EUROPE Summit 2015 Conference will be collected, stored and used by SAMPE EUROPE Summit 2015 Paris Conference its subsidiaries, related companies or affiliates in accordance with the SPG Media Privacy Policy. Ltd
6 General: You, your executive/s or your agents may not transfer or assign any of the rights or obligations of this Agreement (in whole or part) without our prior consent. Any attempt to resell, assign or transfer rights without our consent will entitle us to cancel the contract without liability to you.
This agreement is governed by and will be construed in accordance with Dutch law and each party irrevocably agrees that the courts of the Netherlands will have the non-exclusive jurisdiction to deal with any disputes arising out of or in connection with this agreement.
Grant of Licence: Your booking includes the proceedings, you will be warranted that you will only use this for your business purposes and shall not, without our prior written consent, make available, copy, reproduce, transmit, disseminate, sell, licence, distribute, publish, broadcast or otherwise circulate the proceedings (or any part of it) to any other person other than in accordance with these terms and conditions.
The working language of the Event is English. Executives requiring an interpretation service must make their own arrangements at their own expense
Copyright © SAMPE EUROPE Summit 2015 Paris Conference
Membership
5 Main reasons to become a member of SAMPE Europe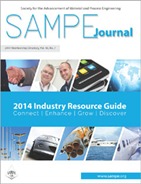 Network Opportunities
Meetings, Seminars, and Literature
Membership Discounts for Conferences & Exhibitions
Free Technical Papers
SAMPE Journal Subscriptions
News
29-01-2019
Its already time to start planning the next bridge bulding contest! The... Read more