SAMPE Europe - Summit Conference Paris 2019
Published on: Tuesday 12 February 2019
SAMPE Europe - Summit Conference Paris 2019 – Monday 11 March
Monday 11 March 2019 - the day before the JEC World Paris opens its doors - SAMPE Europe will hold its Executive Summit. Location is the Pullman Paris Tour Eiffel Hotel, just aside the Eiffel Tower.
The Program of this Summit consists of a range of 12 high level lectures by invited speakers only. Topics are composite related innovations in Automotive & Aerospace, including Advanced Materials and Process Engineering, as well as applications in other markets like Architecture & Construction.
High ranked speakers are from China, Japan, USA and Europe. Attendees are managers of CEO and CTO level in leading companies, engineers, scientists, and professionals from throughout the advanced materials and processes industry and universities.
Society for the Advancement of Material and Process Engineering
The conference day starts at 9 AM in the Rooftop restaurant of the Pullman. It is an outstanding occasion for networking with interesting colleagues and meeting new contacts. The conference is open for all interested in the above fields of advanced materials. Both members and non- members of SAMPE, as well as students, are invited to participate.
A long term partnership between SAMPE Europe and JEC Group has been established in order to bring the highest benefit of composite materials to our members. As part of this, JEC Group offers all Summit delegates free admission to JEC World Paris.
Registration and the program >
SAMPE Europe Summit Paris 2018 in the Pullman Tour Eiffel Hotel: A must for everyone visiting the JEC World 2019!
Membership
5 Main reasons to become a member of SAMPE Europe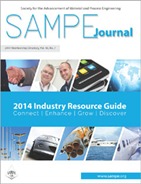 Network Opportunities
Meetings, Seminars, and Literature
Membership Discounts for Conferences & Exhibitions
Free Technical Papers
SAMPE Journal Subscriptions